The University is inspired by talent and driven by innovations and is firmly committed to provide industry-relevant, socially-responsible manpower to meet the challenges of 21st Century. The vibrant culture of research and innovations in DTU campus inspires students from UG level onwards to engage in cutting edge technology development and discover the value and worth of the knowledge acquired by them during their studies. The University offers Ph.D. programme in a wide range of areas in Engineering, Sciences and Humanities. The academic programme leading to the Ph.D. degree is broad-based and involves a course credit requirement and a research publications leading to thesis submission. Facilities for research work leading to the Ph.D. degree are available in Departments of Mechanical Engineering, Information Technology, Environmental Engineering, Electrical Engineering, Electronics & Communication Engineering, Humanities & USME, Design, Delhi School of Management, Computer Science & Engineering, Civil Engineering, Biotechnology, Applied Physics, Applied Mathematics, Applied Chemistry and Design.

Research Facilities At DTU


All the academic departments of the university have well equipped research laboratories and workshop facilities. In addition, there are a number of central facilities such as Central Workshop, Solar Energy Centre, Central Instrumentation, Centres for Advanced Studies & Research in Automotive Engineering, TIFAC-CORE, Central Library and Computer Centre. The Central Library has more than 200,000 books, a large collection of back volumes of periodicals, standard specifications and other literature. It subscribes more than 36,000 current journals in Science, Engineering, Humanities and Social Sciences as e-resources. DTU has a well-equipped centralized Computer Centre which provides state of art high-end networked computing facilities to students and staff. The University has many research collaborations with leading universities and Institutes in Korea, Singapore, France, Florida USA, Africa and China.
As part of these collaborations, the students get opportunities to carry out joint research projects with faculty and students from these institutions. The location of DTU in close proximity to several leading R&D Centres namely NPL, INMAS, FICCI, CSIR, etc. and other major industrial establishments offers excellent opportunities to interact with them and plan research programmes and projects in collaboration with them.

Research Specializations Offered in Academic Departments


The university admits Full Time scholars for a duration of maximum 4 years. The areas of specializations available under the various departments are given below: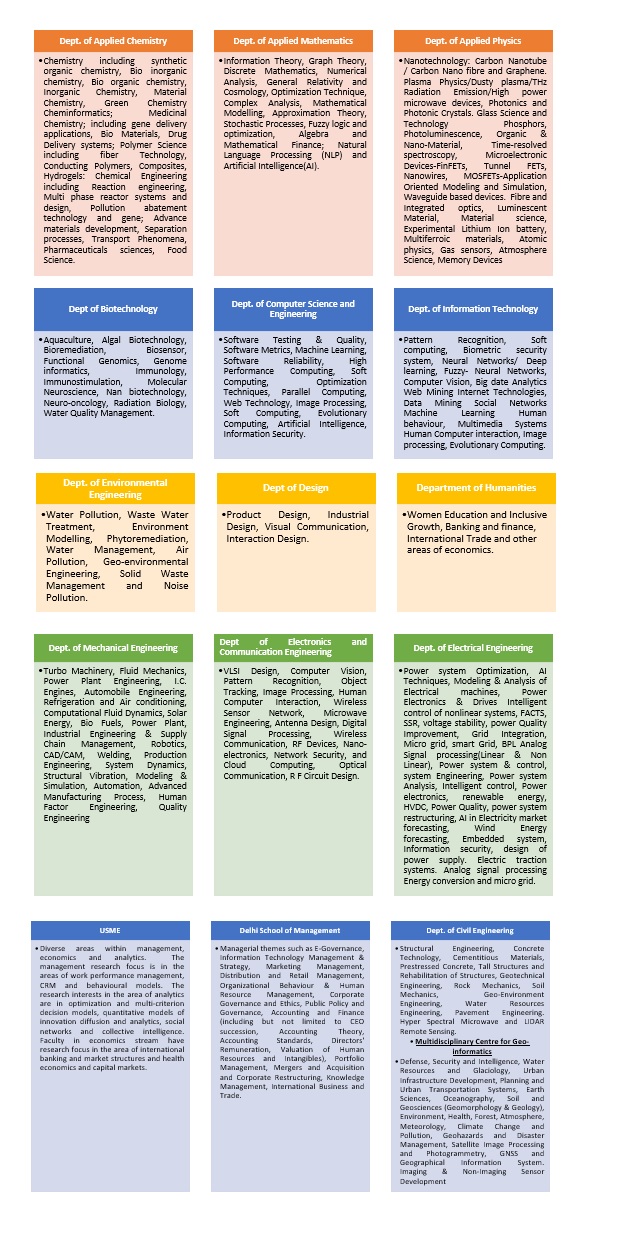 Ph.D. Disciplines
The University offers the following disciplines under various academic departments for the award of Ph.D. degree depending on the master's degree specialization: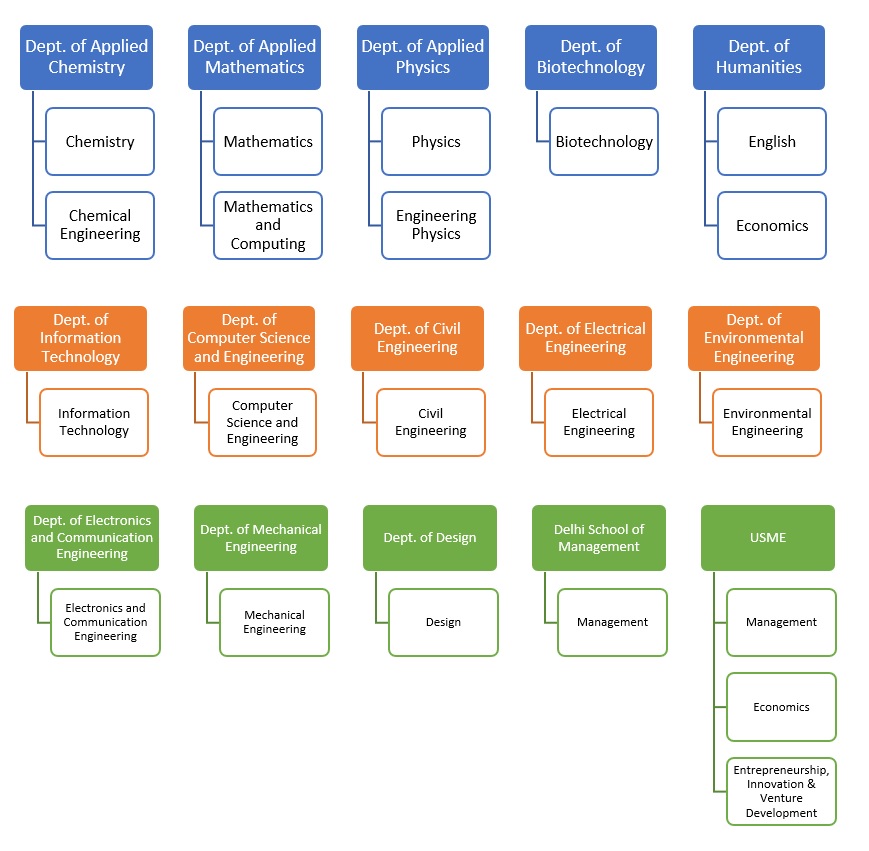 Fellowships and Awards for Ph.D. Scholars

1. Ph.D. Fellowships
• DTU releases fellowships for Ph.D. Scholars as JRF (Junior Research Fellow) Per Month plus an annual contingency amount as per University guidelines notified from time to time.
• Those Ph.D. scholars who are getting fellowship from DTU are given a defined teaching work load per week as per norms.
• DTU fellowship is granted normally upto 04 years from the date of admission in Ph.D. programme/course or thesis submission whichever is earlier.
• The fellowship period may be extended upto 5th year in special cases if the Ph.D. scholar has published research papers as per laid criteria.
2. Progress Linked Award
• Full time Ph.D. students with fellowship admitted w.e.f. the session 2019-20 will be paid a consolidated amount as per University guidelines along with contingency annually. They will also be assigned a teaching work load, as recommended by the University, per week by the department.
• They shall become eligible to be considered for an enhanced amount of fellowship per month if they meet the eligibility criteria as determined by the Progress Linked Award Guidelines recommended by the University.
• Full time Ph.D. students without fellowship would also be considered for the enhanced fellowship per month if they meet the eligibility criteria as determined by the Progress Linked Award Guidelines recommended by the University.